Necessity and Advantages of online Marketing
advertising growth trend – internet vs. dailies, tv, radio, 2004-2013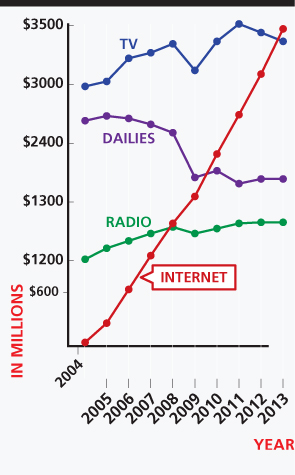 Figures from the Interactive Advertising Bureau of Canada's (IAB Canada) annual internet advertising spend report, 2013, conducted by Ernst & Young, featured in www.marketingmag.ca

Canadian businesses spent $3.5 billion on online marketing in 2013 – that's about $100 million more than they spent on traditional advertising media such as print and television. The advantages of using an online marketing campaign for sales, branding and exposure is self-evident. As traditional offline markets are embracing online marketing (such as search engine exposure and mainstream social media) to eagerly promote products and services, they need to refine the sales and fulfillment cycles based on ongoing supply and demand. This is due to the fact that traditional consumers have shifted the way they perceive, search and acquire information.
As a result of the growth of social media outlets such as Facebook and Twitter, companies must move away from traditional advertising methods and adapt their advertising and marketing efforts to embrace a new breed of web-savvy consumers to secure ripe online opportunities. To say that the playing field has been leveled is an understatement. To bridge the gap of demographic disparity, Net Squares Inc. provides the tools and the means to achieve exposure in different markets.
By integrating innovative strategies and cutting-edge technology, Net Squares Inc. is able to run an aggressive online marketing and branding campaign that reaches a targeted audience and secures millions of impressions (that convert) in a matter of months. Methods previously considered unfeasible can now be developed in accordance with your marketing strategies in a matter of months vs. years of branding using traditional marketing means to reach the same prospects.